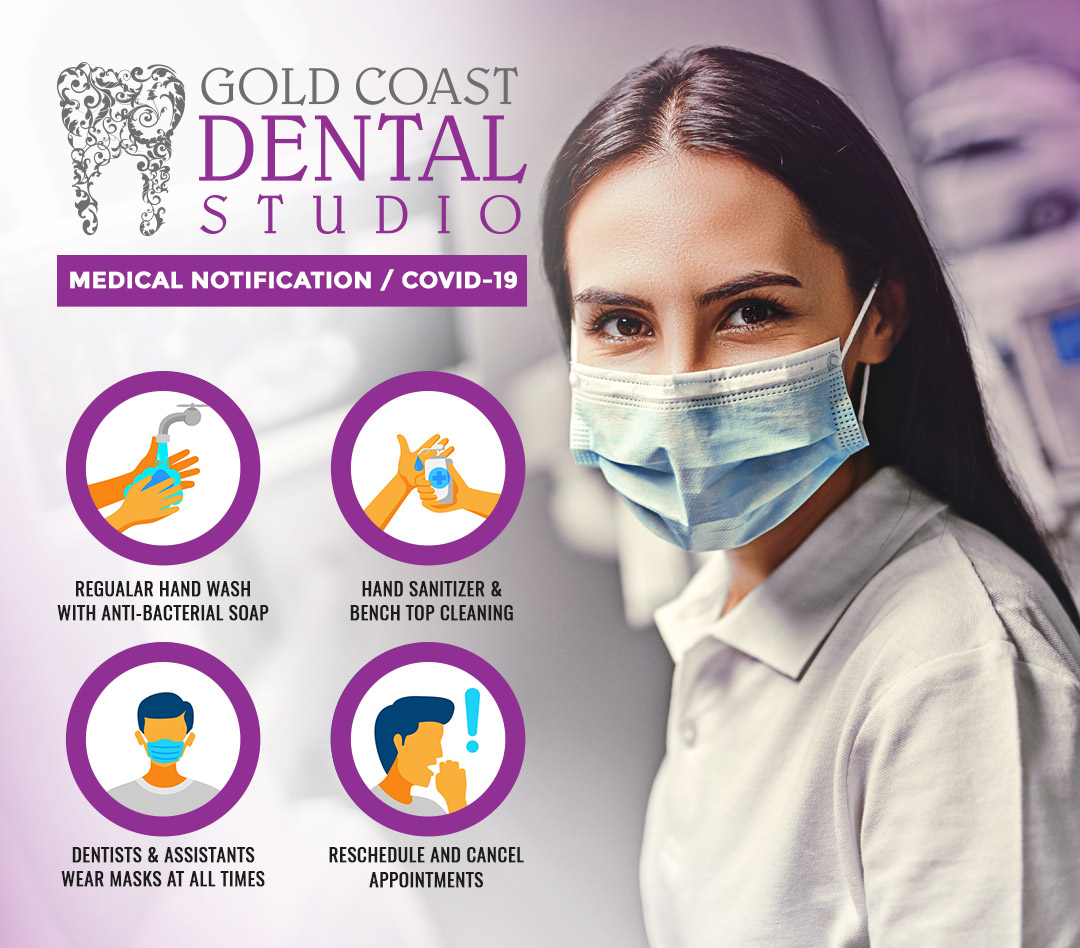 Due to recent increases in Covid-19 cases throughout Australia, we politely ask that if you're experiencing any cold/flu like symptoms please contact us and we'll reschedule a time suitable for you.
We're currently operating as normal, providing all dental treatments and operating standard hours. To once again provide excellent quality treatments to maintain your good oral health care.
What we are doing at Gold Coast Dental Studio to help
Gold Coast Dental Studio has always maintained high levels of hygiene. As a result of the Covid-19 pandemic we have further reiterated this importance with all staff. Our team have been acting diligently to help protect our patients and staff with strict hygienic protocols. Throughout the pandemic, we have successfully seen and treated patients over the past two years.

We are operating cautiously to help minimize the effects of the Coronavirus. Our team are increasing the efforts in aiming to promote healthy personal hygiene measures throughout our clinics. These include:
Hand sanitiser available to patients.
Regular antiseptic cleaning of benches and desks in regular contact surfaces.
Regular hand washing with antibacterial soap and water.
Staff that appear to have symptoms of illness or are required to undergo isolation protocols are being politely asked to stay home.
Dentists and Dental Assistants to wear face masks always while dealing with patients.
No hand shaking between staff or patients.
If in the unfortunate circumstance where a staff or patient has contracted Covid-19, we will abide to Government and Health body procedures and guidelines where necessary.
If you have recently tested positive or waiting upon test results, please contact us to reschedule your appointment.
Further information
If you require additional health information please refer to your Doctor, or 13HEALTH (13 43 25 84), or the Australian Government Department of Health homepage at www.health.qld.gov.au/coronavirus.
We thank you for your understanding and look forward to seeing you for your next dental appointment.