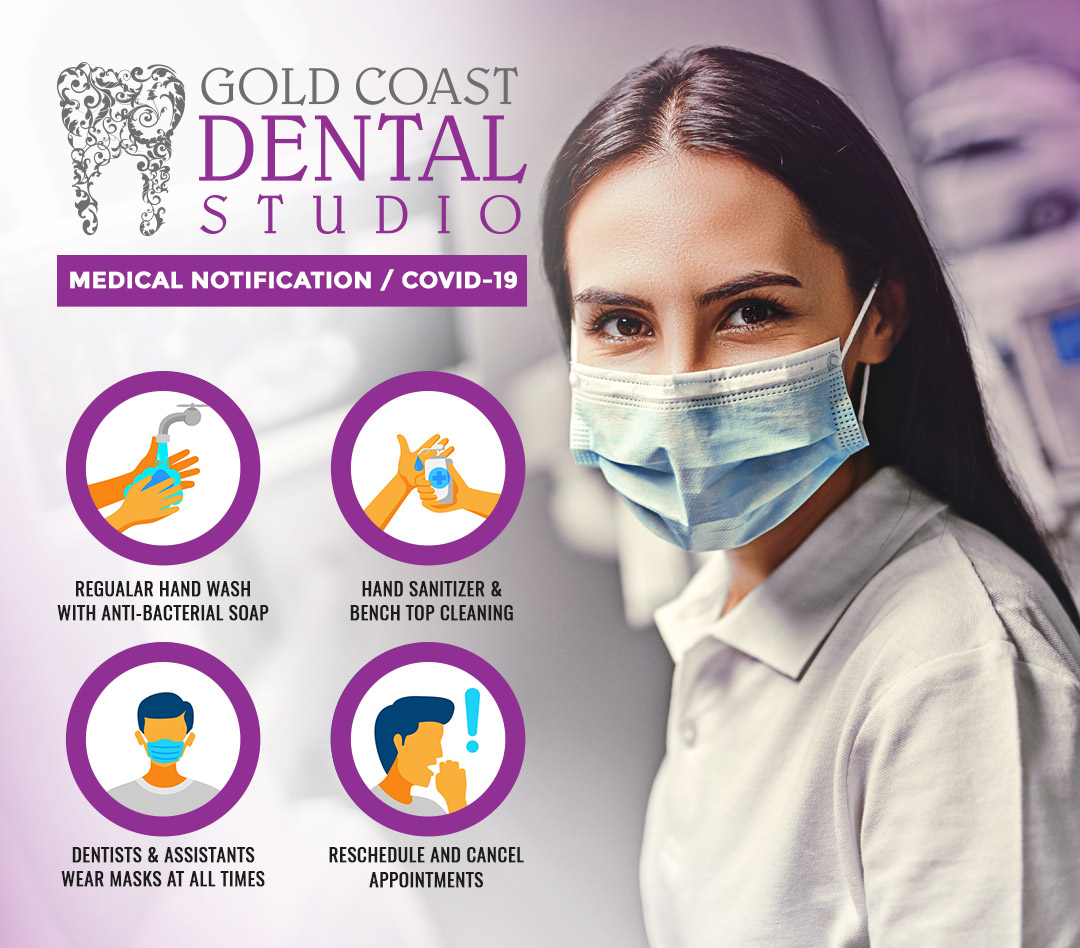 Due to events from Covid-19 and for the health and well-being of our staff and patients, we politely ask that any individuals that have any cold/flu like symptoms to please reschedule or cancel your appointments. Along with following medical recommendations of either self-isolating or consulting your nearest doctor prior to returning to Gold Coast Dental Studio.
With the recent lifting of Covid restrictions on August 8, 2021, the Australian Dental Association of Qld have announced that dentists can resume to providing all capable services. That means, the team at GCDS are able to operate as normal. Allowing us to once again provide excellent quality treatments and oral health care.
What we are doing at Gold Coast Dental Studio to help
Gold Coast Dental Studio has always maintained high levels of hygiene. As a result of the Covid-19 pandemic we have further reiterated this importance with all staff. Our team have been acting diligently to help protect our patients and staff with strict hygienic protocols.
We are operating cautiously to help minimize the effects of the Coronavirus. Our team are increasing the efforts in aiming to promote healthy personal hygiene measures throughout our clinics. These include:
Hand sanitiser available to patients.
Regular antiseptic cleaning of benches and desks in regular contact surfaces.
Regular hand washing with antibacterial soap and water.
Staff that appear to have symptoms of illness are being politely asked to stay home.
Dentists and Dental Assistants to wear face masks always while dealing with patients.
No hand shaking between staff or patients.
If in the unfortunate circumstance where a staff or patient has contracted Covid-19, we will abide to Government and Health body procedures and guidelines where necessary.
Anyone that has recently traveled internationally or has come into close contact with individuals that are known to have tested positive for Coronavirus (Covid-19) is required to self-isolate in accordance to the 14 day mandatory self-quarantine requirements set by the Australian Federal Government.
Further information
If you require additional health information please refer to your Doctor, or 13HEALTH (13 43 25 84), or the Australian Government Department of Health homepage at www.health.qld.gov.au/coronavirus.