Tooth Replacement Solutions
Restore your smile and more with Dental Implants.
You no longer have to hide your smile. Be proud to smile once more with our restorative dentistry solutions.
Missing teeth can cause various oral problems. Ranging from; aesthetic self-consciousness, natural movement of teeth due to non-supportive neighboring teeth, eating difficulties, potential speech pronunciation difficulties, and gum oral health issues.
Our skilled cosmetic dental surgeons can insert implant teeth into the jaw bone. This allows them to be structurally strong. Our crowns that are applied on top of the implant components are also all locally designed and made. This helps to ensure accuracy and a high standard of quality control for all of our patients. We can create singular implants or multiple, which consist of a dental bridge of teeth. With an experienced aesthetic dental team, our dentists accurately match artificial teeth to their natural counterparts.
Our Dental Surgeon, can apply single or a bridge unit for those missing multiple teeth. We're also experienced in all-on-four (full row) dental implants for those that require a full row of aesthetic fake teeth.

Dental Implants with Veneer Crown Upper Makeover
There are three types of dental implants
Single Dental Implant
A single tooth implant is used to replace one missing tooth. This encompasses a dental post along with porcelain crown which is connected via an abutment.
Implant Bridge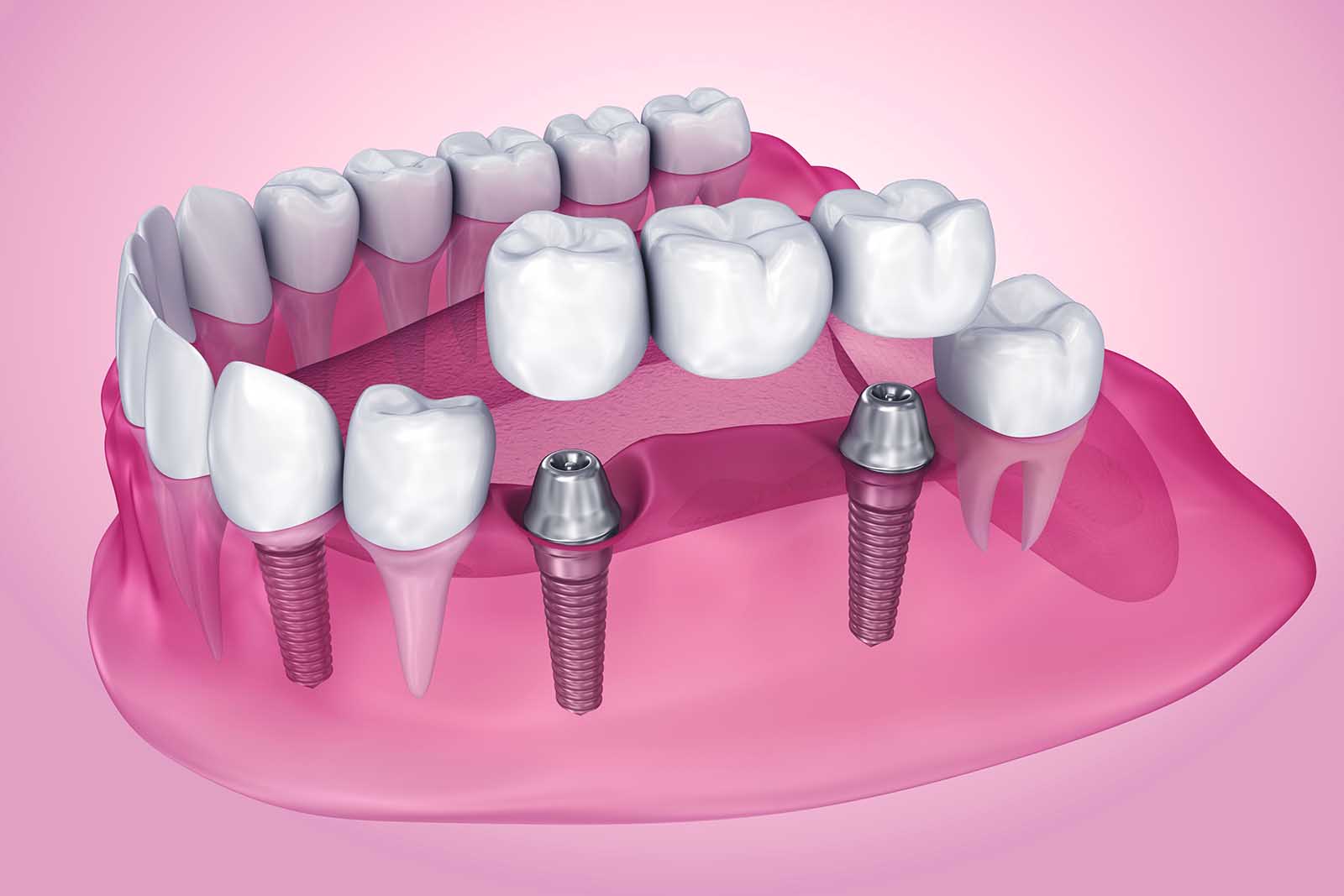 When multiple adjacent teeth are required to be replaced. The dentists will generally recommend an implant bridge of artificial teeth. Rather than recommending multiple surgical insertions for each tooth, implant posts are strategically positioned to anchor crowns that are connected as one piece to complete the gap of a missing tooth. A dental implant bridge is similar to a regular crown bridge. The main difference is that an implant bridge are supported by screw posts rather than teeth that have been shaped and filed to support the bridge. The artificial middle tooth of a bridge that is not supported is known as 'Pontics', while the crowns on either side of the bridge that are attached to the posts are known as 'retainer crowns'.
Gold Coast All on Four Dental Implants (Full row denture implant)
All-on-4 dental implants are recommended for patients that may require a full upper or lower row of missing or severely damaged teeth. The titanium posts are strategically positioned and fitted to securely hold either the full upper or lower denture in place. This helps prevent any movement of the denture while talking or chewing.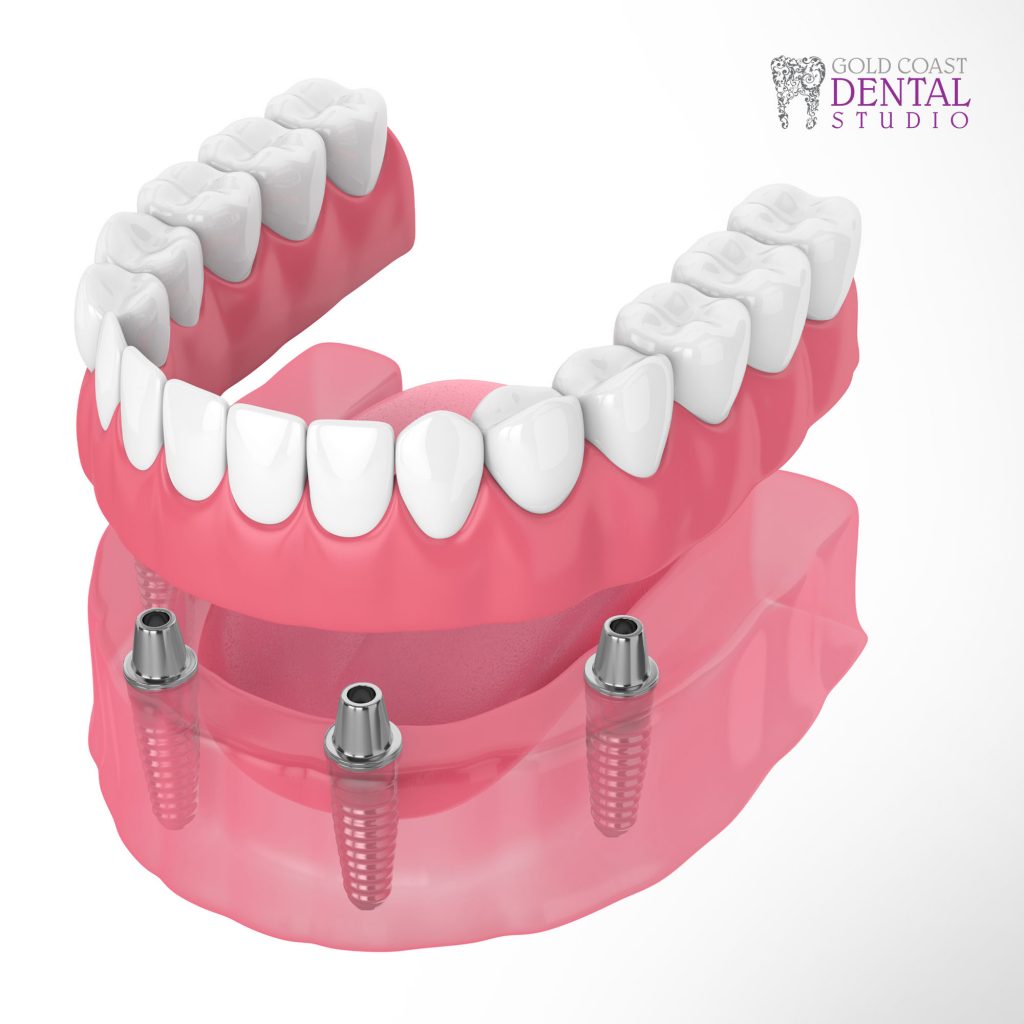 All on Four Dental Implants
What are the advantages of dental implants?
The metal posts of an implant mimics the root of a natural tooth. Therefore, they are structurally sound and provide support to neighboring teeth preventing them from potentially moving. As implants are fused into the jawbone, this stimulates bone growth in the socket area that replaces the missing tooth.
Improved comfort and security when compared to other fake teeth restorations. Dental implants do not slip or move, resulting in improved speech and eating.
With correct maintenance and regular dental checkups, implants tend to be quite durable. They are also less likely to be misplaced or damaged when removed at night when compared to dentures.
Dental Implant Costs Gold Coast
The average investment for a each dental implant from Gold Coast Dental Studio costs on average $5,000-%5,500*. As a result of each tooth and mouth being unique to each individual the costs for dental implant treatments vary between patients. Average cost is intended as a guide only and do not include any unforeseen additional treatment prior to treatment and surrounding teeth that contribute towards improving better end results.
Dental Treatment consists of:
Consultations
Surgical guide and treatment planning
Radiographs
Intro oral scans and photography
Diagnostic model and 3D modelling
Insertion of implant
Fitting of implant abutment
Crown attachment to implant             
Health Attributes
It's important to note that not all patients are eligible for dental implants. There could be health conditions that may effect eligibility for patients to heal from the dental implant process. Like all invasive procedures, surgery for dental implants may impose risks. These will be confidentially and thoroughly discussed with your registered dental professional. If a patient is not suitable for dental implants, alternative missing tooth replacement options will be suggested.
Book a first time consultation for dental implant information.
Call (07) 5578 2218 to arrange an appointment to help with your missing teeth replacement.