Dentures from Gold Coast Dental Studio provide a full or partial mouth restoration
Gold Coast Dentures in Nerang specialize in aesthetic restorations for missing or severely damaged teeth. Experts in denture design types, which includes: Partial, Chrome, or full acrylic dentures. We also repair and reline dentures.
What are dentures?
A denture is a replacement for missing teeth and the tissues connected to those teeth. A denture closely resembles natural gum tissue and teeth. Custom-made appliances can aid in maintaining oral aesthetics and function.
Types of dentures
There are 2 types of dentures. Complete dentures replace all of the teeth, while partial dentures fill in the spaces created by missing teeth and prevent other teeth from shifting position. A partial denture is for people who still have some of their natural teeth and are looking to fill in the gaps.
Complete Dentures: Complete dentures are comprised of a gum-coloured plastic base and a full set of plastic or porcelain teeth. Traditionally, they are positioned and held in place by creating a seal with the gums. Dental implants can also be placed to hold dentures, though this is an additional expense.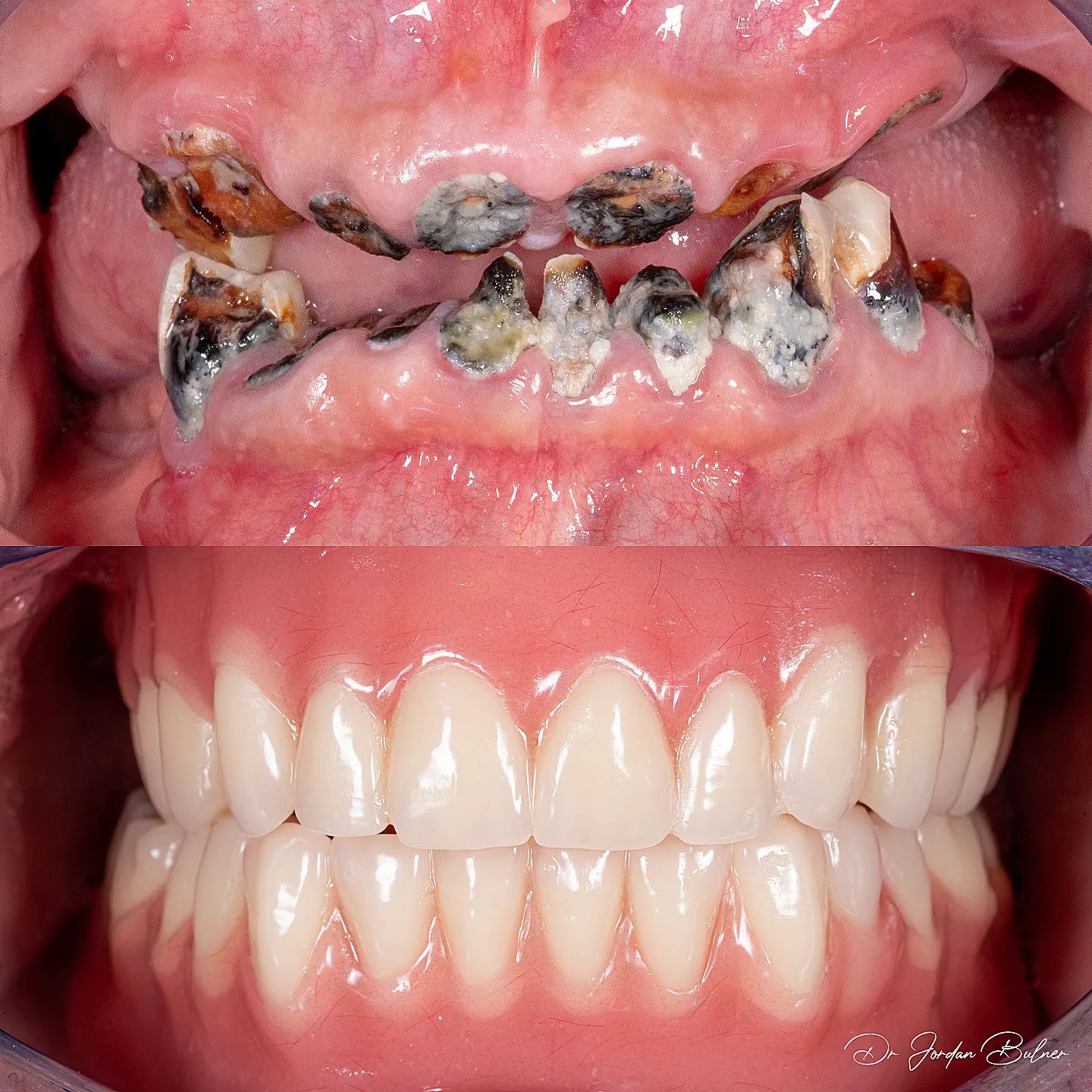 Partial Dentures: Either built upon a metal framework (which can support multiple false teeth) or on a plastic base, partial dentures are held in the mouth using carefully placed clasps and rests. These appliances replace missing teeth and fill gaps, but are not for a full-mouth of false teeth. Partial dentures are most commonly used as emergency or temporary replacements.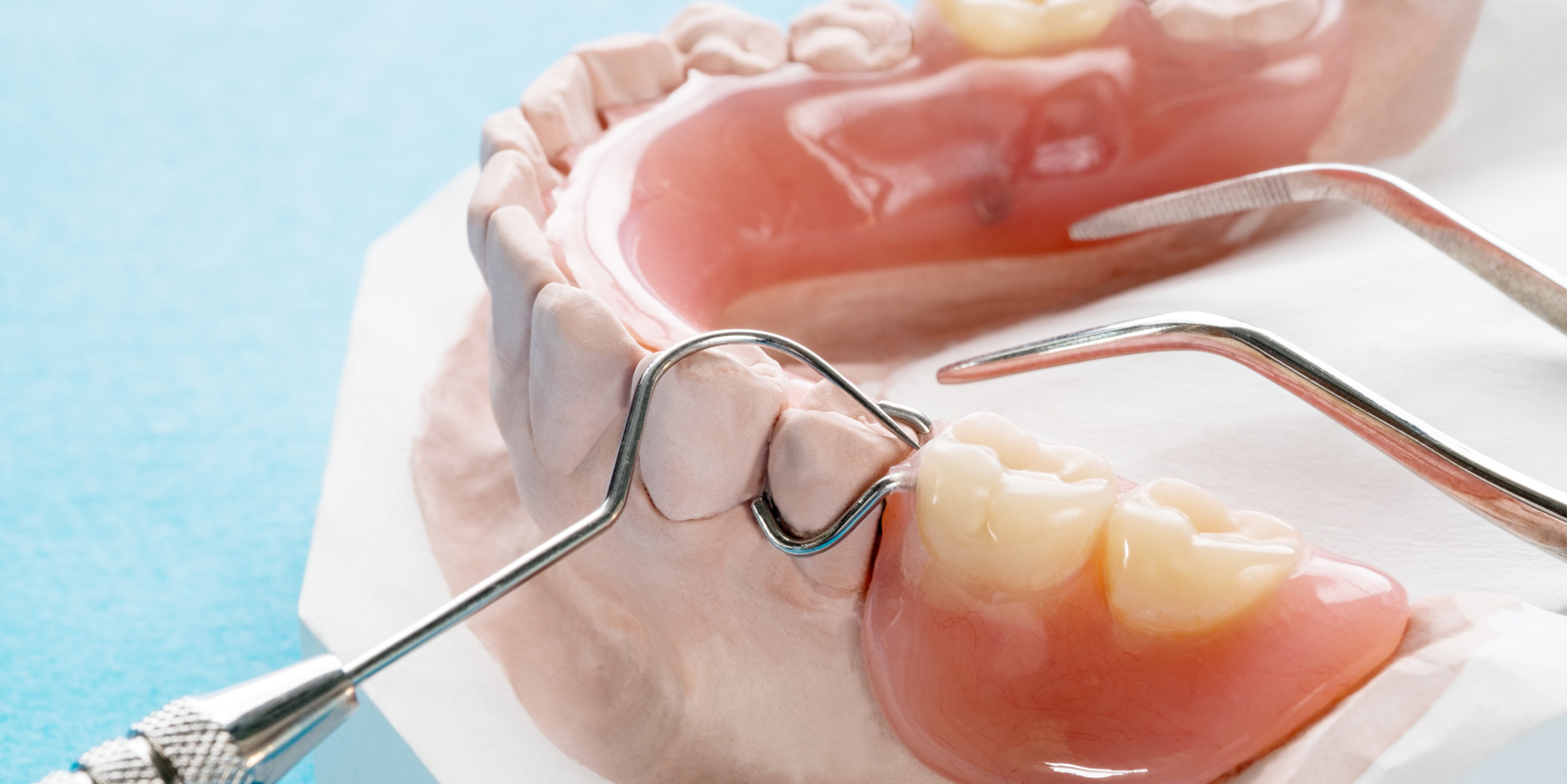 Who needs dentures?
Dentures are not just for elderly patients. Patients of any age may lose some or all of their teeth and may require a denture of some sort.
How are dentures made?
A series of impressions and moulds are taken of the dental tissue that is to support the denture. These are sent to a dental laboratory where they will be used to create a perfectly-fitting denture. Creating a perfect seal is essential. False teeth (crowns, usually) will be placed on top to create a lovely new smile for the patient. This is a gradual process, and the patient may need to visit the dentist once a week for up to 6 weeks before the denture is perfected.
How long do dentures last?
When cared for properly dentures can last a minimum of 5 years. Visiting your dentist for regular check-ups will prolong the life of the denture. Minor repairs to your dentures should take 1-2 days to fix in a dental lab.
How much do dentures cost?
If you've been searching and finding it difficult to get an exact cost of a denture that is because there are several variables that can determine the total fee. Since everyone's requirements are unique, a total quote for your denture is calculated specifically to your needs. Therefore, denture costs are determined on a case-by-case basis. Before any treatment is performed, we help educate and inform each patient of the total prices for approval before we begin. This is detailed during a consultation with our cosmetic dentists.
Factors that may contribute to the cost of a denture may include:
Preferred denture material to be used; acrylic, chrome, flexible (valplast)
Amount of fake teeth required
Treatments required prior to denture fitting for oral health benefits, may include; tooth extraction, gum disease treatment, fillings, or root canal therapy. These will be discussed with the patient if required
Amount of consultations that might be required to complete overall treatment
Depending upon your insurance health cover, this may also be used to your advantage when arranging your overall treatment investment.
Due to the variances involved regarding total denture costs, Gold Coast Dental Studio provides a complimentary first consultation for a simple quote on dentures*. Otherwise, for new patients without private health, we offer a special first-time $149 check-up and clean. A check-up and clean allows our dentists to provide an extensive scale and clean, x-rays, polish, fluoride and extensive examination. This provides our dentist with the opportunity to thoroughly examine your current oral health and provide the best recommendations suited for your denture quote and budget.
* Initial consultation is for a quote only with no treatment provided. Fees may apply for additional x-rays.

A denture is essentially a replacement for missing teeth as well as the surrounding tissues. Dentures are designed to closely resemble the natural teeth and gum tissue. It is important to fill gaps left by missing teeth in order to prevent remaining teeth from shifting positions.
There are two types of dentures: complete and partial dentures. Complete dentures replace all of the teeth, while partial dentures fill in the spaces caused by missing teeth. Partial dentures are suitable for patients who still have some of their natural teeth. Dentures may be suited to patients of any age, and are not limited to elderly patients alone.
Dental inlays and onlays are used to cover different proportions of the tooth. An inlay works by filling the space in between the cusps or rounded edges at the centre of the tooth's surface. An onlay works in a similar way, but covers one or more cusps of the entire biting surface of the tooth. Dental onlays are generally more durable and longer lasting than dental fillings, and are used when a tooth is too damaged to support a filling, but not damaged enough to require a dental crown.
Gold Coast Dental Studio has extensive experience creating dentures. Call us today to find out how we can help you!